What Is the Best Paint for Interior Walls?
We'll take a closer look at the sheen options for your interior paint project, but first, let's talk brands. You really do get what you pay for!
While ultra-premium, expensive paints might not be necessary for your specific goals, we do recommend that you invest in a quality paint manufacturer. You need a durable finish - something that will look fantastic but also stand up to the traffic, bumps, and scrapes of everyday life. Cheap paint is made with cheaper ingredients, and that translates to poor coverage, poor color retention, and a shorter lifespan.
In the long-run, working with better paint brands will actually save you money, making it well worth the investment.
High-Quality Paint for Walls and Ceilings
So, what do we use here at MB Jessee Painting?
When it comes to painting ceilings and walls, Kelly Moore AcryPlex is one of our go-to choices. For ceilings specifically, we use AcryPlex 550: it's a premium latex paint that leaves a flat, high-end finish, but applies easily and can be touched up as needed down the road.
In general, here are a few more reasons why we like AcryPlex interior paint so much:
100% acrylic, low-VOC paint formula (this means little-to-no odor or fumes!)
Self-priming
Beautiful finish with excellent coverage
Durable enough for your home's busiest spaces
Available in a variety of finishes, including a satin finish, flat finish, eggshell finish, and semi-gloss finish too
How To Choose the Best Paint Finish
High-gloss paint, semi-gloss paint, satin paints, matte finishes... There are a lot of types of paint finishes, and the options can get confusing!
It used to be you could narrow the options by your performance requirements: flat paints were less durable, but higher-gloss paints were MORE durable. You could pick and choose accordingly, using flatter paint on your ceilings, and high-gloss paint on trim, doors, and maybe cabinets.
Thanks to ongoing paint formula improvements, the sheen doesn't matter as much as it once did. It really comes down to the style you prefer.
Bonus Tip: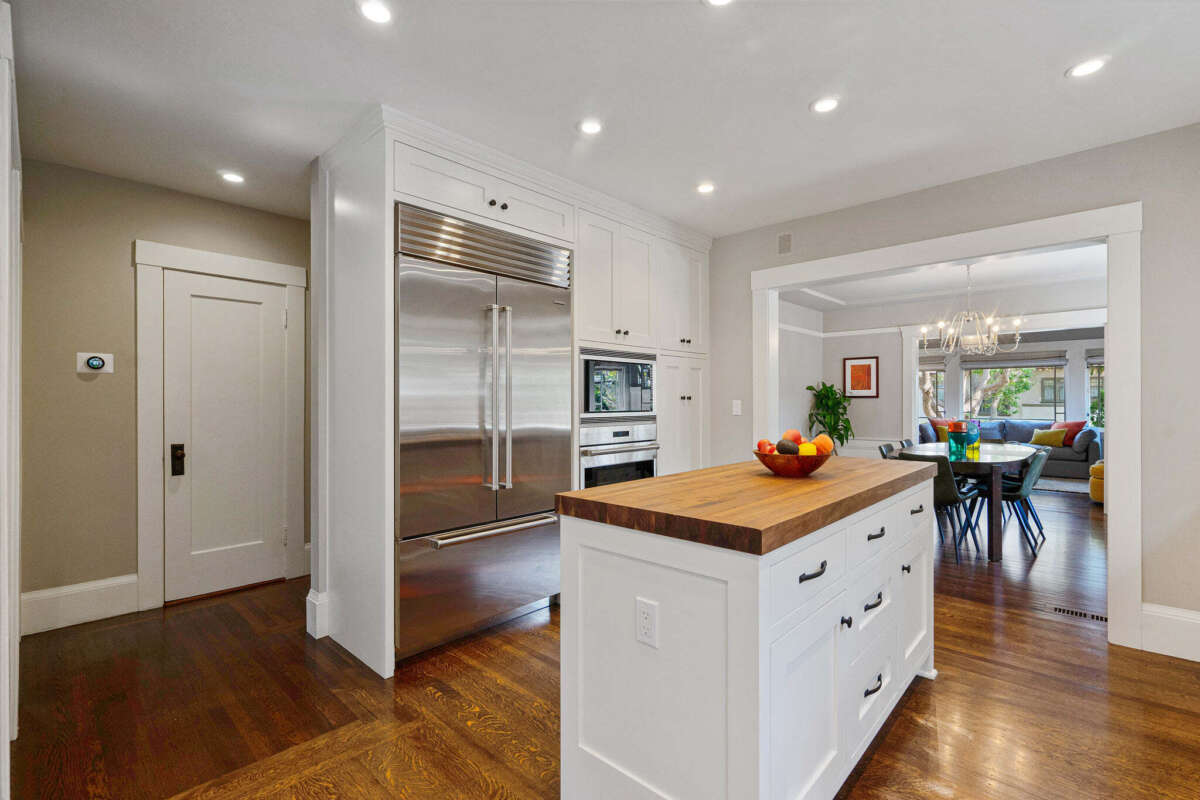 Interested in finding the best paint to use on kitchen cabinets? We've dedicate a whole article to the topic right here, and shared a few specific examples of paint products we really like to use.
Popular Flat and Matte Paint Sheen for Walls
The classic Eggshell paint finish used to be the go-to choice, as a happy medium between flat paint and glossy finishes, but it's been edged out by a new contender.
Matte paint, with virtually no shine, is one of our most popular options here in Oakland and the Bay Area. Specifically, DuraPoxy Matte from Kelly-Moore.
The beauty of this product is that it offers all the benefits of a flat paint sheen, like hiding surface imperfections, but it's plenty durable for high-traffic areas. It really offers you the best of both worlds. And even if your surfaces are in perfect condition, you might just prefer the shine-free look over a semi-gloss sheen. The sleek, modern aesthetic is easy to love, that's for sure.
It's a great long-term choice too, with excellent hide capabilities and easy touch-ups. As you work through your options for sheen levels, this is definitely a great one to keep in mind.
Need Help Picking the Best Interior Paint?
Give us a call at MB Jessee Painting! We'd love to help you walk through your options, and provide paint samples to help you make the right choice for your home. We've been a San Francisco Bay Area painting company for over 25 years, and know what works!